Chinese Wins for Bombardier
27 Jun 2005
Bombardier has signed a contract to design and supply the Bombardier CX-100 Automated People Mover (APM) system for Beijing's international airport.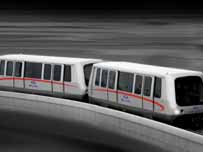 The total value of the contract is approximately £48 million. The project includes all the electrical and mechanical works needed for the 1.2 mile system. There is also an option for two years of operation and maintenance services. Bombardier's Pittsburgh, USA facility will be responsible for project management, systems engineering and integration, testing and commissioning, in addition to the design and supply of the 11 CX-100 vehicles and the Bombardier CITYFLO 550 automated train control technology.
Wolfgang Toelsner, Bombardier Transportation's Chief Operating Officer, said: "This project denotes the building of our first fully automated and driverless transit system in China, as well as the entry of our APM products into this dynamic market. We are excited to be part of the Airport's expansion project and to be establishing a long-lasting partnership with Beijing Capital International Airport."
Says Jianwei Zhang, Bombardier Chief Country Representative, China, "The award of this APM contract enhances our reputation of delivering first-class transportation products. With the 2008 Summer Olympics on Beijing's doorstep, we are proud to showcase this proven and exceptionally reliable CX-100 technology."
As part of the Airport's major expansion project, the new APM system will operate on a dual guideway between two stations and will serve the new terminal, designated T3. Designed to carry 4,100 passengers per hour per direction, the CX-100 vehicles will be capable of operating as single-car or four car trains.