Gerrards Cross Re-opening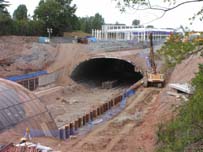 Last month we reported on the rail tunnel collapse at Gerrards Cross, which occurred at thirty-four minutes past seven on the evening of June 30th. The tunnel was part of a £20.3 million design and build contract being undertaken by Jackson Civil Engineering for Tesco. Failure of some of the pre-cast, pre-stressed concrete arch members caused the collapse.
Engineering analysis under consideration
Fourteen more of the pre-cast concrete demy-arched units have now been removed. According to New Civil Engineer magazine's (4/11 August edition) this has been done to ensure that any units, which could have been overloaded and overstressed, are removed. An engineering analysis of the collapse has been drafted and is under consideration by Network Rail engineers.
It contains recommendations for remedial work and the safe completion of the project.
Excavation of fill materials up to three-metres deep has been completed both in the collapse area, and within already erected steel frame for the Tesco supermarket. Removing the fill loading was expected to result in the arch crowns rising, but New Civil Engineer suggests that this did not happen everywhere - hence the removal of fourteen units. Removal of the units, which were pecked through by machine into more easily handled size, started on July 21st.
The undamaged track has been stacked to one side, and a small retaining wall, presumably temporary, has been erected alongside the track alignment to hold back the remaining fill after removal of the suspect units.
"We are now satisfied that the tunnel is safe..."
However, as we went to press, Network Rail announced that the route would re-open on Saturday August 20th and that a full commuter passenger service would run again starting on Monday August 22nd. Obviously Network Rail's engineers needed a little time to satisfy themselves that the proposals and analysis of the needs for remedial work were adequate, and would result in a safe railway.
Indeed, John Armitt, Network Rail's Chief Executive and a chartered civil engineer, said "Now we are satisfied that the tunnel is safe, our engineers have moved in and will be working day and night, rebuilding the track and signalling damaged in the tunnel collapse. I appreciate that the last seven weeks has been extremely frustrating for passengers, however we could not contemplate re-opening the line unless we were satisfied that the Tesco Tunnel was completely safe."
Allan Spence from the Railway Inspectorate agreed saying, "following the removal of all parts of the tunnel that were damaged during the collapse, detailed engineering calculations and remedial work to the tunnel infill profile, the Health and Safety Executive (HSE) agrees with Network Rail's decision that it is now safe to re-open the railway."
One further comment by Network Rail concerns the reason for the collapse on June 30th, and will come as no surprise to regular readers of the rail engineer. "The underlying cause of the accident is still subject to HSE investigation, but initial views are that the loading sequence used in the construction of the tunnel, was the major factor that caused the collapse."


Featured suppliers on this project: