South Wales - £400 Million of Signalling Investment
Network Rail has just announced a package of works in South Wales. The contracts are part of an overall £400m investment programme, which will renew signalling installations in South Wales over the next ten years.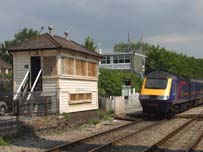 The present tranche of contracts included signalling and telecommunications design and construction works being awarded to Atkins Rail. Associated civil engineering design and construction has gone to Birse Rail; electrical plant and design to Amey Rail, who have also been successful in winning the permanent way design and construction work. Together this group of contracts form the Port Talbot East Re-signalling Project, valued at £60 million and are due for completion by October 2007.
Port Talbot has an old British Railways Western Region NX panel installation, dating from 1963. The requirements and the industry in the area have changed a great deal in the intervening forty years, and there will be some rationalisation of redundant facilities. The new installation will utilise solid state interlocking, and use conventional track circuits.
The news of this latest investment follows closely on the commissioning of the 'Vale of Glamorgan' works, which have brought new life to railway operations in South Wales. Further works in South Wales, which are expected to follow on from this project, are: resignalling of Newport (which will be carried out in two stages), Cardiff and Port Talbot West. It is anticipated that these will be completed within ten years, by which time some of the existing installations will be looking forward to retirement.
That they have survived for so long is testimony to both their designers and constructors, and to the maintenance teams that have kept and continue to keep them working.

Featured suppliers on this project: