£10,000 Bill for graffiti clear up
24 Jan 2005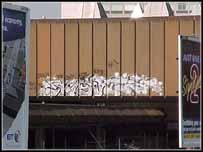 Mindless graffiti vandals have been risking their lives to make their mark on one of London's most famous railway stations.
The footbridge connecting the main station concourse to platforms one to eight at London Bridge station, has been defaced with giant, black and white lettering. Dave Ward, Network Rail Route Director said: 'It will cost £10,000 to remove this graffiti.'
The vandals went to extreme lengths to reach their target area, trespassing, crossing electrified tracks and scaling walls and roofs. Now scaffolding has been erected to aid removal of the material. The surfaces concerned will be coated with anti-graffiti varnish to deter future vandalism.