Bridge launches redoubling phase
28 Oct 2010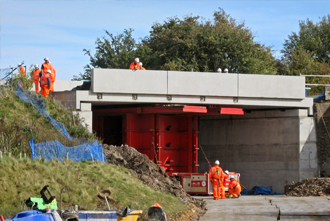 In August 2009, the rail engineer ran an article entitled 'Putting history into reverse' which outlined the plans and aspirations announced by David Northey, Network Rail Commercial Scheme Sponsor for the Cotswold Line. Our story dealt largely with the section between Charlbury and Worcester - a 45-mile stretch of the 86-mile route.
At the time, the project team was primarily focused on a six-week blockade which would enable them to instigate plans to slew the existing track in preparation for more than 20 miles of redoubling so that a new formation could be prepared. Many activities were involved - troughing and other equipment had to be moved, but the centre of attention was the 157 year old Campden Tunnel, designed by Brunel. More than 12,000 tonnes of ballast had to be removed, the single track slewed and lowered, and a new drain installed in the six-foot. Then the second line had to be installed throughout the tunnel's 811m length.
With all this preparatory work now successfully completed, the next phase has kicked into gear with the renewal of an underbridge at Honeybourne. To catch up on progress and what's to come, I visited the bridge site to meet with David Northey. I was also shown around by Rosie Majer, Network Rail's Project Management Assistant, who is responsible for the bridge reconstruction work which started back in August.
Recycling bridge span
There was a tangible level of excitement and anticipation throughout the site as the 52-hour possession for the main work was just two days away. Additional plant, materials and workers were arriving and final checks were being made. Birse Rail, as the principal contractor, had overall responsibility for this work. The span to be removed was a single-track box girder design, installed in 1972. Arrangements have been made to donate it to the Telford Steam Railway which intends to make good use of it.
The new span is a post-tensioned reinforced concrete deck designed to carry two tracks. At the time of my visit, it was positioned some 30 metres away from its intended resting place. However, it had already travelled a fair distance, having been cast in Ireland as four separate units by Macrete Ireland Ltd. Together with their parapets, these had been delivered to site a week before installation was due.
Modular transport unit
Once there, the new deck was assembled on trestles and tied together using Macalloy bars. A 600-tonne capacity, ten-axle modular transport unit was deployed, supplied by Abnormal Load Engineering (ALE). This would remove the old span and then carry the new one into position.
David Northey explained that the bridge used to span a railway that provided a route into Stratford and another to Honeybourne Station. Whilst it only accommodates a farm track today, the bridge is being retained in case the Stratford route is required in the future. David emphasised that you have to keep opportunities around you open wherever possible. It is a shame that this attitude was not prevalent when the route was first singled!
There were a couple of concerns that had to be addressed in preparation for the reconstruction. One was an engineering problem and related to the existing abutments which were leaning and unstable. Rosie explained that, to rectify this, they installed precast concrete piles in front of the existing abutments and then cast new concrete abutments and cills. This meant that no additional work would be required when placing the deck. Augured concrete piles were also installed alongside the proposed line of the new wing walls that will be cast after the deck's installation.
The five-day challenge
The second problem was not so easily addressed. A nearby pond was home to the Great Crested Newt which, as we all know, is a protected species. Considering that these creatures are rare, they do seem to crop up at a lot of sites; maybe they just like railways. Anyway, there was no simple solution or short cut. Fences had to be erected and safe traps installed around the site. An ecologist visited daily to inspect the traps and only when five continuous days had elapsed without newts being found in them could the site be declared safe. It took one month before this was achieved - a significant period of time in what was proving to be a very tight schedule. Fortunately, round-the-clock working by Birse Rail and favourable concrete curing times enabled the work to get back on schedule.
There was a quiet confidence on site that everything was under control and the job would get done. The plan allowed six hours to remove the old bridge and another six for the new one to be installed. On the day the deck had been removed by 0700 and replaced by 1300, allowing plenty of time for snagging works before the site was handed back for track replacement. The only difficulty had arisen the day before when a deluge caused ALE's transport unit to sink a little - an issue that was overcome by placing aluminium matting over the surface.
Other work was carried out to maximise use of the possession. This included waterproofing a brick arch underbridge at Common Lane, additional track slewing, installation of axle counters and a level crossing conversion at Littleton & Badsey. All these items of planned work were completed without incident despite periods of torrential rain. It's a credit to all concerned - Rosie Majer and her team and to Jon Petherick, Contract Manager for Birse Rail and his team.
Conveyor belt process
However, the most significant aspect of this work is that it has kick-started the next phase of the £67 million project. The plan is to start relaying on 13th December and the aim is to complete one mile per week using a 'conveyor belt' process starting with the off-loading of rail, then sleepers and ballast, followed by tamping and lining equipment that will continue to work through to 22nd May next year. All this work is planned in normal possession times - weeknights and weekends - with activities such as welding and destressing continuing on the new line during the day behind safety fencing.
Unfortunately, due to the substantial work that will be taking place at Reading over Christmas, they were unable to take advantage of this quiet period since it was felt that the disruption to passengers would be too great if both sites were active concurrently.
Amey has been awarded a contract to build three new platforms at Charlbury, Ascott-under-Wychwood and Honeybourne stations in the New Year and also for signalling work and station telecoms. New bases will have to be installed for the signalling equipment and signals. The intention is to retain some of the semaphore signalling, mainly at Moreton-in-Marsh. Colour lights will replace the semaphores at Ascott-under-Wychwood and Evesham where the lever frames will make way for mini panels.
Upgrading infrastructure
The token system currently in use will be upgraded with new axle counters whilst troughing routes are also to be created. At Littleton & Badsey, Chipping Campden, Blockley and Ascott-under-Wychwood, level crossings will be refurbished and modernised with new barriers and lights. Additional crossovers will be installed at Moreton-in-Marsh, Honeybourne and Campden Tunnel.
This is a sizeable package of work for the future. The potential benefits are a more flexible railway with journey times reduced by up to ten minutes. Linespeeds will range from 75-100mph and the significant opportunities to improve the train service are currently being explored by First Great Western.
Commissioning work
The major commissioning work needed before the route can become operational will be carried out in two stages. The first will start on the 28th May 2011, running through to 6th June, and will deal with the section between Charlbury and Ascott-under-Wychwood, the resignalling work, S&C commissioning and the installation of a new footbridge at Charlbury Station.
The second stage is due to start on 6th August 2011, focussing on Moreton-in-Marsh to Norton Junction near Worcester. This will involve the commissioning of two level crossings at Blockley and Chipping Campden and associated signalling between Evesham and Moreton-in-Marsh, the installation of the new S&C and a new footbridge at Honeybourne station.
There is a huge amount still to be done and significant benefits to be achieved for the Train Operating Companies and their passengers. The successful underbridge replacement at Honeybourne means the momentum is now firmly established; the rewards for all are evident and, fortunately, the project is too far advanced to be affected by any cuts!