Eurostar Arrives On Time As Crossrail Suffers Delay
13 Mar 2007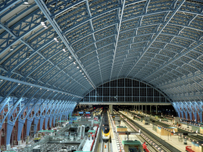 On the same day London leaders met Tony Blair to put pressure on the government to get on and build Crossrail, Eurostar ran its first test train, 33133314, 'Entente Cordiale', over High Speed 1 and into St. Pancras station.
Says Rob Holden, chief executive of London & Continental Railways, the developer of High Speed 1, 'The first Eurostar train at St. Pancras is a milestone in the history of train travel in the UK. LCR has taken another significant step forward towards the opening of High Speed 1 on time and within budget.'
Eurostar plans to switch operation to St. Pancras in November. Journey times to Paris and Brussels will be slashed. High Speed 1 comprises over 60 miles of new high speed railway, 150 bridges and viaducts, 15 miles of tunnelling under London, two new international stations at Stratford and Ebbsfleet and the restoration and modernisation of St. Pancras International.
Highly skilled engineering teams working on High Speed 1 hope to switch over to Crossrail when the project is complete. However, rail officials at the DfT say the scheme has been sent back for further cost analysis.
Harvey McGrath, from London First, said, 'There is no doubt as to the benefit which Crossrail would bring to the UK economy. The only issue, as the Crossrail bill reaches the final stages of its parliamentary scrutiny, is how to pay for it.'