New Transpennine Fleet Launched in Germany
12 Dec 2005
A Walk on the Wildenrath Site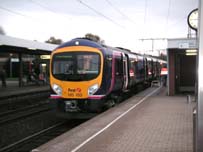 Andy Milne reflects on the international nature of railways on a press trip to the Siemens railway test track in Germany.
At this time of year many German towns host open air Christmas markets, with snow often roofing the stalls, mulled wine bubbling in pots and braziers offering sizzling foot long sausages with mustard. Toy trains and chocolate are dispensed briskly, together with Christmas trees, lights and thousands of candles.
Lighting up the Nordic winter is central to folklore. Mönchengladbach is no exception and the 23 kilometre long test track at nearby Wildenrath marks a fitting spot to inaugurate the season of goodwill and peace to all men. Railways unite people as no other transport medium can. Freight trains, night sleepers and expresses have snaked across borders on terms of easy familiarity for over a hundred years. Historically railway operators have had to work with their counterparts over the border since the railways of Europe were born, and the imperatives of speeding passengers from London to Venice and Rome to Moscow swept away the protestations of petty officialdom.
Britain's railways were no exception to this. English cheminots floated freight trains across the Channel long before the Tunnel ever opened. In the 1990s phlegmatic engine drivers went off to study French, not simply to operate trains but initially to enable them to write a joint signalling manual in English and French. When the Heathrow Express first started operations it suffered a driver shortage. Into the breach stepped a posse of German drivers, on secondment from DB and Eurostar.
Christmas is a good time to reflect on this. Under the arc lights this very evening across Europe drivers will hand over a train to the crew of its next country. It is fitting then to ride the TransPennine Express on its one scheduled trip from Wildenrath test track to Rheydt - a station in Mönchengladbach. TPE's fleet of Desiro 185s will soon be hard at work uniting the cities of Newcastle, Lancaster, Durham, Liverpool, York, Leeds and Manchester.
The trains are being built by Siemens in Krefeld in the Rhineland, across town from Wildenrath. At the press launch local Rhenish journalists may have struggled with the Bayerische accent of some Siemens employees who had travelled up from Bavaria. The company is headquartered at 69 Werner von Siemens Strasse at Erlangen near Nuremberg. Spare a further thought for them as they were then faced with the Scots of Ellen Harwood, representing a Chinese bank the British had persuaded to pay for all this, and the erudite Geordie of Durham-born Moir Lockhead, chief executive of First Group, a Scottish transport company from Aberdeen. Whatever the state of his German, Hans Benker speaks perfect English.
"My job is to make sure we build exactly what the contract actually says. We document everything that ever happens and record all changes," Hans explained as we rattled round Wildenrath Test track. "This was once an RAF station," he said, pointing out the old runways and curved bunkers. Siemens took it over in the early1990s for testing the new generation of Inter City express trains. The flyers were originally stationed to protect the military base down the road at Rheindahlen. Now, extraordinary even by rail industry standards, the Chancellor of Germany is a pastor's daughter from the former GDR. Should she and other politicians wring their hands at the cause of European unity they could do worse than take a walk around a Christmas market with fitters from Manchester, drivers from Mönchengladbach and railwaymen from First Group and the DB.
On return from Wildenrath the Mönchengladbach airport police gave each traveller a chocolate Father Christmas. "I want you to know this is a present from the German police," I said, rather pompously, to my eight year old son. He could have not have been more pleased had I arrived with a full Desiro trainset. "Brilliant!" Chocolate, like railways, is an international language we can all understand.

New Desiro Fleet Unveiled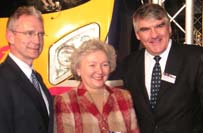 On the day Angela Merkel, the new Chancellor of Germany, visited Tony Blair at Downing Street officials from First Group, TransPennine Express and HSBC flew over to join colleagues and press corps at Siemens Wildenrath test centre near Mönchengladbach.
First TransPennine Express will be running a fleet of 51 Class 185, diesel-engined Desiros built by Siemens in Krefeld and tested at Wildenrath. Ellen Harwood, of HSBC, and Moir Lockhead from First Group were joined by Jörn Sens of Siemens Transportation Systems. Mr. Sens said the success of the project was attributable to three things, "Rigorous testing... team work... and a pragmatic approach. Systems were tested independently of the train at Hamburg and Krefeld," he emphasised. "The success we can see today was only possible due to the full commitment of the project team of TPE, HSBC and Siemens. The team adopted a quite pragmatic approach. Issues like the specific requirement for driver training, and improvements regarding the design resulting from the various tests were all incorporated into the train development, in a spirit of common understanding and co-operation to create a train truly worthy of our common clients: the passengers of the TransPennine franchise."
Ellen Harwood, head of New Business Development at HSBC, said the £200m investment was a statement of belief in Siemens. Trains, she said, "Only have a long term future if they serve passengers well and are liked and used." Mrs Harwood also paid tribute to the project team. Team work was essential, she said, without it everything is sub standard. This project had come in on time and on budget.
A jovial Moir Lockhead started by wishing everybody a happy Christmas and thanking his partners in the project, particularly Siemens, but also HSBC, Keolis and all at First Group. "It's great to be here," he said, nodding at the Christmas tree and decorations in the test centre hangar. Keeping in the spirit of things, Siemens staff had wrapped up train number 185105 in paper and a massive bow which proved difficult for the triumvirate to undo.
"I'd like to think we at First Group have a good track record of launching new trains," said Moir. The 51 fully air conditioned Desiros for TPE will be the fourth new fleet First Group has toasted into service." Passenger numbers on TPE were climbing steadily, said Moir, 6% up on last year. "The new trains will make an impact," he said. "They're the right trains for the right time. I am confident our passengers will like them."

Marcus Makes History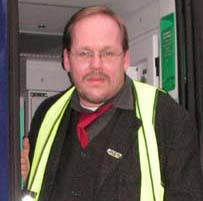 Driving a British express train into Mönchengladbach in the rush hour is hardly a normal part of the job.
Deutsche Bahn driver, Marcus Mandelartz, takes it all in his stride. Marcus was responsible for piloting 185 103 round Wildenrath test track with railway officials from Siemens, HSBC and First Group on board trying out the new train.
Mr. Mandelartz then took the train onto the main line for its historic run to Rheydt where the British party disembarked to return to the airport for a flight home.
Mr. Mandelartz is based at Rommerskirchen and lives in Mönchengladbach. Driver instructors from First TransPennine have been training at Wildenrath prior to taking delivery of the new trains this winter.

Diesel Desiros to Link North
The Class 185 is the first diesel version of the Siemens Desiro electric train design.
The trains are designed to boost the quality and attractiveness of rail travel between the north's principal centres. All trains will have air conditioning, inter city-style seating with better legroom, a first class section, on-board security cameras and easier access for disabled people.
Equipped with three Cummins diesel engines, the trains will have excellent hill-climbing abilities and much improved reliability. They will run in three and six-car formations. The new train order includes the creation of purpose-built maintenance centres at Ardwick, near Manchester, and York where trains will be serviced by Siemens.
New fuelling facilities at Cleethorpes will also be installed. As well as driver instructors trained in Germany, 12 English engineers from Ardwick have been at Wildenrath training on the new trains.
Such close co-operation has already paid dividends. Trains at Wildenrath are maintained on raised roads in the sheds. The new building at Ardwick would have had raised platforms for staff to approach the train. These would have prevented the raising of the side panels that hang down masking the engines. A quick design correction saved the day. Maintenance staff are looking forward to welcoming the new fleet to Manchester.

Testing Time for Matthias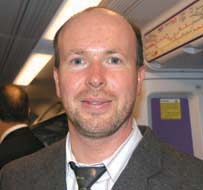 The new diesel-engined Desiro 185 represents a major advance for software testing at Siemens.
Before installing the on-board computer systems, software engineer Matthias Kerlin, who works at the Erlangen offices, set up the systems independently. The Central Control Unit is the computer brain of the train and operates the door control, air conditioning, braking and security system. Getting it working correctly is essential.
"For the first time we tested all the computer systems which belong on the train at a site in Krefeld. We basically set it up and tested it, before it was installed," said Mr. Kerlin. "This meant any bugs could be ironed out early on."
"New systems never work without problems, but the testing worked well. I think we have a really good train." Matthias has worked for 12 years at Siemens. "It is quite exciting to see the train in action with so many people on board," he said as the test train speeded round the track at Wildenrath.
The new software testing system has made production much faster. Good news for First TransPennine Express, which expects to have the full fleet operating by the end of January 2007.