Repowering the HST
28 Jul 2010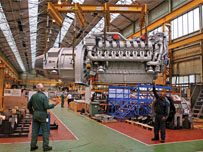 Every magazine welcomes a scoop. On 22nd July, the rail engineer was invited to Brush works to witness the installation of the first MTU 16V 4000 engine into a Grand Central (GC) HST power car. This marks the approaching culmination of a life-extension programme across the UK's HST fleet which started in 2005 with two First Great Western power cars and has seen all the TOCs - with the exception of East Midlands Trains who have opted for VP185s - replace their HST engines with MTUs.
Energy efficiency is achieved, in part, by using the common rail system - an alternative to individual fuel injection. It's a sort of fuel 'bus bar' that delivers diesel at a common pressure allowing it to be drawn off, giving a much quicker response and far better combustion.
The screaming sound of the Valenta turbo chargers will also be a thing of the past as the MTU-fitted power cars feature four incredibly quiet turbo chargers. During their 12 week stay at the works, each power car also has new Brush cooler groups and electronics installed, as well as a flush dashboard. Its bogies benefit from an overhaul.
Environmental benefits
In essence the MTU brief was to produce an engine that delivered the same power as a Valenta but provided reductions in everything else including emissions, noise and fuel consumption. Drivers have also commented on how clean the engine room of an MTU-fitted HST now stays.
Grand Central's first two power cars are expected to leave the Loughborough works together in late August and make their way to Brush's other facility at Kilmarnock where GC's carriages are being refurbished. The first of its renewed HST sets - all of which are owned by Angel but on lease until December 2016 - is likely to enter passenger service next month, with the final power car scheduled to leave Brush in March next year.
For those interested in such things, once refurbished the power car's third digit is replaced with a 4, so 43068 will become 43468 etc.