The speed of light
01 Feb 2011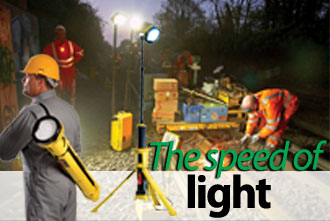 The logistical impact of more night working can often be onerous, particularly when activities are very localised or of a short duration. Getting sites lit can eat into valuable possession time, particularly when generators have to be brought from access points and cables laid. But technology has allowed a quick and simple alternative to the developed.
Peli, a leading designer and manufacturer of advanced lighting systems, has launched its 9440 Area Lighting System - a unit that can be deployed rapidly to illuminate areas where no mains electricity supply is available, such as trackside locations. It incorporates an innovative rechargeable floodlight on a telescopic mount. When fully extended, the unit reaches a height of more than 2 metres, enabling large work areas to be lit. And it quickly retracts to less than a metre in length, allowing it to be carried easily with the supplied shoulder strap. The 9440 is extremely lightweight, coming in at only 7.3kg.
Designed with the latest technology, the ten LEDs provide a powerful 2400 Lumens on their high power setting, with 1200 Lumens achieved in economy mode. The beam spread is 120˚. The increased efficiency of LEDs results in six hours of light being provided from a single charge. Eight hours sees the unit fully charged again.
Safe and sustainable
The Peli range of trackside area lighting products offers mobile and emergency lighting where mains power is not an option. Portable and rechargeable, the units are ideal for routine maintenance activities as well as longer duration engineering works.
Significant savings have been achieved through the off-hire of other lighting equipment and the elimination of product maintenance. Overall safety has been improved as generators and cable sets are no longer needed. Peli area lighting products have also benefited Network Rail in achieving its environmental sustainability policies.