Top Fleet Honoured At Bletchley Depot
13 Feb 2007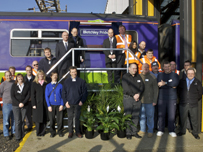 54 hard working railway staff have been praised at Silverlink's Bletchley depot and a class 321 named in their honour.
Mark Hopwood, managing director of Silverlink, said, 'Bletchley is more than just a professional maintenance depot, it is a unique centre of excellence. The company is not the only TOC operating 20 year old trains, but no other company comes near the reliability obtained from the Bletchley fleet.
Nobody can put their finger on why this is, apart from low staff turnover, and a quality workforce willing to learn and develop skills, with older staff passing on local knowledge to younger members of the team.' Some staff members trace their careers back to 1965.
Bletchley maintains 37 class 321s which operate between Northampton and London on one of the most heavily trafficked railways in Europe. Bletchley 321s score an impressive 43,267 miles between failures.
The team has looked after a wide array of traction ranging from new 350s to the now legendary 117s which were subject to nightly refits in their last months on the Bedford Bletchley line. Mr. Hopwood invited Roger Ford, respected railways analyst and writer to name 321425 Bletchley Pride.
The depot itself looked like becoming a victim of franchise re-organisation. However, the future now looks much brighter for Bletchley. Silverlink remains part of the National Express Group which did well in the recent passenger satisfaction statistics.
Says David Franks, NEG's Trains Division Chief Executive, 'This is great news and highlights the consistent hard work and commitment being shown by our people to deliver quality services to our customers. We listen carefully to what our customers say to us through such surveys and polls and aim to learn from this feedback, to ensure we continue to improve performance across all our train operating companies.'
Adds RailStaff editor Andy Milne, 'I used to visit Bletchley regularly when working for Silverlink some years ago and was quite taken aback by the lengths staff went to every night to keep units like the 117s running. This recognition is good news and long overdue.'