Dublin's DART System
DASH is the name given to the upgrading of Dublin's successful DART system, which serves the city centre. Designer Peter Cuffe described the design criteria, priorities and challenges. The scheme had to be 'sold' to four local authorities as well as local residents and the team had meetings with politicians as well as officers from the local authorities before agreement was reached.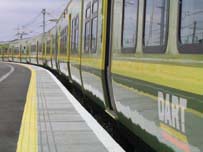 Traffic growth
The upgrading and improvements are needed to meet traffic growth. Current peak passenger flows of 11,800 per hour are forecast to rise to 16,000 per hour. Thirty-eight new DART cars have been introduced into the system since 2000. The existing twenty-year old system is overcrowded now! Phase 1 of the DASH project is designed to effect quick improvements and bring early relief from the overcrowding.
Adding two cars to each train to give eight cars necessitates expensive platform extensions and an upgrading of the power supplies. More frequent trains are also planned and the power upgrade works will also provide for this requirement.
Building stabling sidings to accommodate a half-mile length of new trains is also expensive, especially when the site is uneven and extensive ground works are required. Extending no less than 45 platforms at 23 stations and providing lighting, lifts and other services are also included in phase one. Platforms have been extended using precast "Z" section units wherever possible.
Heuston Station
The complete upgrading of Dublin's Heuston station alone cost €117 million. Total budget was €176 million, which included €69 million for civil engineering works; €37 million for power supply upgrading, €15 million for track work alterations and €14 million for signalling. New depots are scheduled for commissioning in October and November this year.
Eamonn Ballance leads the project management team. Team members are either seconded from CIE or from consultants along with others who are directly employed fro the project. All are co-located and the project management organisation uses a system of discipline specific task leaders with delegated responsibilities.
One specifically titled task leader carries the title 'Task Leader Special Projects.' His task is the micro-management of the most intensive and crowded work activities. The project management and hand back tasks are consequently an exclusively in-house activity, which has proved to be highly successful. In over twenty months of continuous work there have only been two Monday morning possession over-runs. Equally importantly the project is on time and within budget.
Kildare Route Project
The route taken by the railway out of Dublin towards Kildare is trapped between the M7 and N4. Both roads are already heavily congested. The Project plan is to four-track part of the route to provide greater carrying capacity at the city end, and encourage population growth in this area outside the city. To simplify track and signalling and reduce conflicting movements, it has been decided to put the two slow lines together and accommodate the fast lines outside them. Quadrupling between 3.5 and 10 miles out of Dublin is planned.
The plan is due to receive statutory authority later this month, by the granting of the necessary Railway Order, which will allow land to be purchased and construction to take place. The plan is for design and tendering preparation work to be completed by July next year, so that construction work can begin in August 2006 with all works completed by March 2009. The current project estimate is €300 million.


Featured suppliers on this project: