Hong Kong East Rail Line, China
EAST RAIL HEAVY RAIL LINE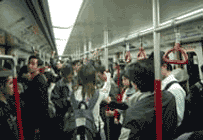 To meet the growing demand for domestic and cross-boundary passenger rail services, KCRC is implementing three East Rail extension lines: Ma On Shan Rail, Tsim Sha Tsui Extension and Lok Ma Chau Spur Line. These three extensions are crucial to the further development of East Rail as the north-south strategic railway corridor in Hong Kong, complemented by West Rail as the east-west corridor. The combined capital cost of these three projects is HK$27.5 billion.
MA ON SHAH EXTENSION
Ma On Shan Rail and the Tsim Sha Tsui extensions are due for completion by 2004, while the Lok Ma Chau Spur Line is targeted for completion in 2007. Ma On Shan Rail will serve the fast-growing Ma On Shan new town, whose population is expected to double in the next 20 years. The railway will be built primarily on a viaduct with a small section in the middle running at grade along the central divider of Tate's Cairn Highway. This will minimise the amount of land used and will avoid disruption to road traffic.
The 11.4km railway will have a maintenance centre at Tai Wai and nine stations located within walking distance of large residential developments.
The railway interchanges with East Rail and the future Sha Tin to Central Link at Tai Wai Station, which will be rebuilt to cope with a larger passenger flow. With new trains, a new signalling system and more trains departing from Fo Tan East Rail will have sufficient capacity for the extra passengers from Ma On Shan during morning peak hours.
When it opens in 2004, Ma On Shan Rail will run a four-car train every 2.5 minutes during peak hours. As demand grows, longer trains of up to eight cars will be deployed at two-minute intervals.
Along with West Rail, Ma On Shan Rail will be one of the quietest railways in the world when it goes into service as it will make use of the same multi-plenum noise attenuation system. Construction of Ma On Shan Rail began on 12 February 2001.
TSIM SHA TSUI EXTENSION
East Rail passengers will be able to go directly to the heart of Kowloon via a 1km extens 00003908 ion that will be built in a tunnel below Salisbury Road. The tunnel will terminate at a new underground station in Middle Road. The new KCRC station will be connected by a pedestrian subway to the MTR system at Tsim Sha Tsui. When this extension opens in 2004 it will give the travelling public the choice of transferring from one system to the other either at Kowloon Tong or Tsim Sha Tsui. The availability of a second KCR/MTR interchange at Tsim Sha Tsui will relieve congestion at Kowloon Tong.
There will also be subway links with Tsim Sha Tsui East, New World Centre, Hotel Inter-Continental, Hanoi Road, Mody Road and Chatham Road. Provision has been made in three main sections of the air-conditioned subway system for the installation of travellators to facilitate pedestrian flow, providing greater comfort and convenience for rail passengers and area pedestrians. These arrangements will reinforce the new station's status as the transport hub of Tsim Sha Tsui.
As the Tsim Sha Tsui extension will be part of the principal railway line, it will operate at the same frequency as East Rail. Construction of the Tsim Sha Tsui extension began in April 2001.

Railways play a vital role in serving the transport needs of Hong Kong. They account for about one-third of internal public transport and some 85 per cent of the land-based cross-boundary passenger trips. Being high speed off-road mass carriers, railways provide fast, reliable and comfortable services, reduce the pressure on the road network, and avoid many of the environmental problems associated with road traffic. They are therefore the backbone of our public transport network.
Existing Network: The existing railway network in Hong Kong has a total rail length of over 190 kilometres. It includes two major railway systems, separately run by Mass Transit Railway Corporation (MTRCL) and Kowloon- Canton Railway Corporation (KCRC). Other fixed track systems include the Tramway and the Peak Tram. Mass Transit Railway (MTR) System: The MTR system is a heavily utilised underground railway network consisting five urban lines. The first passenger train of the Kwun Tong Line of the MTR started operation in late 1979. The MTR
network was subsequently expanded to include Tsuen Wan Line (1982), Island Line (1985), the Eastern Harbour Crossing connecting Lam Tin to Quarry Bay (1989), the Tung Chung Line (1998) and the Tseung Kwan O Line (2002). The total route length of the MTR together with the
Airport Express Line is now 87.7 kilometres and the number of stations is 50. The network carries about 2.3 million passenger trips on weekdays.
The MTR Corporation Limited was established by statute in 1975 to operate the MTR. The Legislative Council passed in February 2000 the Mass Transit Railway Ordinance which provides the legal framework for the privatisaton. The privatised MTR Corporation Limited (MTRCL) has been granted a 50-year franchise to operate the MTR system with effect from June 30, 2000.
Airport Express Line (AEL): The AEL, which came into service in 1998, provides services to the airport and also in-town check-in facilities in some stations. The AEL has a route length of 35.3 kilometres and a maximum speed of 135 kilometres per hour. An average journey takes about
23 minutes. The AEL carries over 21 000 passenger trips per day.
Kowloon-Canton Railway (KCR) System: The Kowloon- Canton Railway (KCR) system is run by the KCRC, which was established as a statutory body to operate the rail in accordance with prudent commercial principles. The system consists of two heavy rails, namely, East Rail and
West Rail, and one light rail, the Light Rail Transit (LRT) running through Tuen Mun and Yuen Long.
East Rail: The East Rail commenced operation since 1910 to provide services from Kowloon, through the New Territories via the Lo Wu crossing into the Mainland. It has a track length of 34 kilometres. It started as a single track system, and was completely electrified and double-tracked by 1983. The railway now carries around 800 000 passenger trips every day. Apart from domestic passenger services, East Rail also carries freight services, boundary train services and inter-city through train services.
West Rail: West Rail has a track length of 30.5 kilometres and was opened for passenger service on 20 December 2003, connecting Northwest New Territories and West Kowloon. An average journey takes about 30 minutes. Daily patronage during the initial stage of operation is about 100 000.
Light Rail: Light Rail is a local transportation network run by the KCRC. The Corporation also provides bus services to supplement East Rail, West Rail and Light Rail. Light Rail started operation in 1988 to meet the transport needs of the residents in the north-west New Territories. It now has a route length of about 36 kilometres with 68 stops.
Light Rail has a maximum speed of 80 kilometres per hour and carries about 300 000 passenger trips every day.
It has four interchange stations in Tuen Mun, Yuen Long and Tin Shui Wai with West Rail to facilitate passenger interchange between the two rail networks. A 4.4-kilometre extension of Light Rail to the newly developed areas of Tin Shui Wai was opened in December 2003.
Tramway and Peak Tram: Electric trams have been operating on Hong Kong Island since 1904. The tramway operates six routes on 16 kilometres of double track. Its average daily passenger trips are about 220 000. The Peak Tram is a cable-hauled funicular railway running between
Central and the Peak. Beginning operation in 1888, it operates at a gradient ranging from four to 27 degrees, and is one of the popular tourist attractions in Hong Kong.
New Railway Projects: The Government is planning and implementing four new railway projects: Ma On Shan to Tai Wai Rail Link; KCR Extension to Tsim Sha Tsui; Penny's Bay Rail Link and Sheung Shui to Lok Ma Chau Spur Line.
By the time when they are completed by 2007, the railway network will connect new towns in the eastern and northern parts of Hong Kong with the urban areas. The second rail passenger boundary crossing at Lok Ma Chau and the dedicated rail link to the Hong Kong Disneyland at Penny's Bay will be opened.
Ma On Shan to Tai Wai Rail Link (MOSR): The 11.4 kilometres MOSR connects the existing KCR East Rail at Tai Wai Station.
KCR Extension to Tsim Sha Tsui (TSTE): The TSTE is a 1.1-kilometre underground extension of the KCR East Rail from the existing Hung Hom terminus to a new station at Salisbury Road, East Tsim Sha Tsui.

The MOSR together with the TSTE will improve access to the north-east New Territories. It is expected that these two projects will be completed in 2004.
Sheung Shui to Lok Ma Chau Spur Line (Spur Line): The Spur Line is about 7.4 kilometres long and will connect the existing KCR East Rail Sheung Shui Station to a new terminus at Lok Ma Chau. It will connect to a new boundary crossing at Lok Ma Chau/Huanggang to relieve the increasingly congested Lo Wu crossing. The Spur Line is expected to be completed in 2007.
Penny's Bay Rail Link (PBRL): To provide for mass transport linkage to the planned Hong Kong Disneyland at Penny's Bay on Lantau Island, an approximately 3.5 kilometres long PBRL is being constructed from a new station at Yam O along the existing MTR Tung Chung Line to Penny's Bay. The journey time is less than four minutes.
The project is scheduled for completion in 2005 to tie in with the opening of the Disneyland.
Railway Development Strategy 2000 (RDS-2000): The RDS-2000 announced in May 2000 aims to meet the increasing transport needs due to Hong Kong's population growth, continued developments and strengthened links with the Mainland, in a sustainable manner. It maps out a blueprint for the further expansion of Hong Kong's railway network, although further decisions to build individual railway projects will follow on more studies to establish technical feasibility and cost- effectiveness. This involves a total investment of some $100 billion (1998 prices) to complete five new passenger railway projects and a Port Rail Line subject to traffic growth and project interfaces. The five new passenger railways are: Shatin to Central Link; Island Line Extensions; Kowloon Southern Link; Northern Link and Regional Express Line.
Upon the completion of the various railway projects under the Railway Development Strategy, Hong Kong's railway network will expand by some 40 percent to over 250 kilometres. The railway share in the public transport system will be boosted from some 30 per cent now to over 40 per cent.
Shatin to Central Link (SCL): The SCL, which comprises the East Kowloon Line, Tai Wai to Diamond Hill Link and the fourth rail harbour crossing, is a new rail corridor from Tai Wai to Central. Subsequent to an open- tender exercise, KCRC was awarded the right to build and operate this rail link in 2002.
Island Line Extensions (ILE): This project comprises a North Hong Kong Island Line (NIL) and a West Hong Kong Island Line (WIL). The NIL will provide an additional rail corridor along the new north shore of Hong Kong Island between the MTR Hong Kong Station and Fortress Hill
Station. The WIL is an extension of the MTR from Sheung Wan to the Western District. In view of the slower growth of residential and employment populations in the Northern and Western part of Hong Kong Island, the government decided in January 2003 to defer the completion of NIL until 2016. At the same time, MTRCL was then invited to undertake preliminary planning on the development of the South Hong Kong Island Line (SIL) and the West Hong Kong Island Line (WIL), and will submit its proposal to the Government by the second quarter of 2004.
Kowloon Southern Link (KSL): The KSL is an extension of West Rail from its Nam Cheong Station to connect with the TSTE via west Kowloon. The KCRC was invited in 2002 to undertake further planning for this rail link. Northern Link (NOL): The NOL will connect West Rail at Kam Sheung Road to the land boundary crossing at Lok Ma Chau and the East Rail via north New Territories. Regional Express Line (REL): The REL is the Hong Kong section of the Guangzhou – Shenzhen – Hong Kong Express Rail Link (ERL) under planning. ERL is destined to provide express cross boundary rail service linking the city centers of Hong Kong and Guangzhou with a stop at Shenzhen.
Port Rail Line (PRL): The PRL is a new freight rail connection from Lo Wu to a new port rail terminal at Kwai Chung, either via West Rail or East Rail. 

Featured suppliers on this project: