Martello, Shakespeare and Abbotscliffe Tunnels
Why Lyddon Spout Should Spurt No More!
(or how tunnels and track were repaired and replaced between Folkestone and Dover!)
"Martello, Shakespeare and Abbotscliffe" was the title we used last month, referring to the three tunnels, which Skanska have repaired during a line closure which began back in April. Network Rail are leading the project, as the age and condition of the tunnels was starting to affect the reliability of the route.
Track renewals by Balfour Beatty Rail Infrastructure Services are also underway and the route re-opens on September 5th. Skanska's Project Manager Susan Fitzpatrick and their Contracts Manager David Bone have managed the tunnel repair work.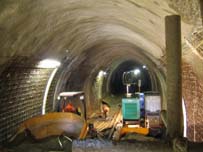 Egg box drainage
Martello is a 500 metre long, twin-track, single bore tunnel. The lining is seven-brick thick rings, with some previously repaired areas, and the inner ring was eroded in places. Areas of the tunnel crown have been relined using an egg box drainage layer. Now the water is carried by Z-section stainless steel gutters into existing cross drains.
Some of a total of 22,000 stainless steel dowels used on this job were 300mm long 'L' bars, drilled and resined into the brickwork to secure the new egg box and the 'Shotcrete' layer applied. Spraycon supplied some of the nozzle and pump men, but 60% of the workforce were Skanska's own trained and skilled workforce.
Shaft adit
Original plans included the infilling of a shaft adit, but it was decided to install new drainage pipes with rodding eyes and plug it with a new access manhole instead. Overall, Martello was the most structurally sound of the three, but advantage was taken of the closure to do repairs. The track in it was renewed just four years ago.
Abbotscliffe is a 1,800 metre long twin-track, single bore tunnel, but it was the main reason why the April to September closure was planned. Its lining was well-fractured and only four rings of brickwork thick! But perhaps the real deciding factor was the locally (in)famous 'Lyddon Spout!'
The Spout erupts
Reputedly every seven years, but rather more frequently in recent years, the Lyddon Spout erupts! Within the rock mass, a large reservoir of water builds up and the pressure increases until, usually with the thaw at the end of a cold spell, it blows! For many years the local railway reaction has been to tell train passengers to keep all windows tight shut, as they went through the tunnel.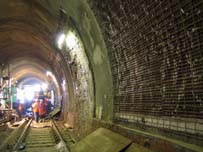 Spout control
Susan Fitzpatrick described the newly installed spout control system to the rail engineer. Four arrays, each containing three deep drainage weep holes, have been installed in the spout areas. The weep holes go back some fifteen metres into the cliff, and the water is then channelled into a new catch pit and new drainage system and out through the existing adit.
Whilst five metre long dowels are used elsewhere in this tunnel, in the 70 metre long spout area, their length has been increased to six metres. To maintain the kinetic envelope in this tight tunnel, one ring of brickwork was broken out to 4.2 metres above rail level, and a 25 mm layer of Shotcrete applied followed by a waterproofing membrane, Degussa Masterseal, prior to shotcreting the final layer.
The Shotcrete layer here included metal fibre reinforcement and each dowel in the area included a spider plate end. These were installed at 1.5 metre centres, with nine dowels in each array. Both tracks were subsequently relayed.
In one area, Skanska removed a section of old steel-centring left in situ following earlier repairs. Steel colliery arches were initially secured with grout bags, then mesh was installed and Shotcrete was applied between the ribs. Over three thousand dowels were installed in total in the Abbotscliffe Tunnel.
A Gothic influence
The Shakespeare is a twin bore tunnel, 1,260 metres long with a single track in each. Its construction is very different from the other two. It is best described as exhibiting a Gothic influence! The near vertical tunnel walls are four rings thick, but the crown only three. The middle pier, between the two bores, is as little as 3.2 metres thick. Repairs included patching in some areas, and substantial work to fractures at the Folkestone end.
The patch repair areas were also substantial with a total of around 800 square metres being treated. One brick thickness was removed for the repair of the vertical tunnel walls, but there was sufficient clearance in the crown for the Shotcrete to be applied on top of the existing brickwork.
300 mm long dowels were used in the repair areas, and in two or three places weep pipes were also installed. The fractured areas totalled 900 square metres in each bore, for which a further 800 rock dowels were used. Between 250 and 300 of them were installed right through the central pier between bores.
A 'High Street Environment'
Two sites were used to supply the plant and equipment for all three tunnels, with Utranazz providing mixers so that the Shotcrete could be site batch mixed. Whilst Skanska's site work and the line closure began on April 30th, they elected to take out track panels at either end and work in a 'High Street Environment' until August 5th, when a track possession was taken. This is scheduled for hand back on September 5th.
'Mr. Fix it'
Track renewal work by Balfour Beatty Rail Infrastructure Services was undertaken under a separate direct contract. Skanska's contract value was £6.2 million, but will surely prove to be a good investment, provided the tunnels fulfil their purpose for another 160 years and the Spout only dribbles on!
David Ode of Skanska's Tunnelling Division and Bob Tuttil, the Plant Manager, who during these works has earned the title 'Mr. Fix it', certainly hope so, and we are told they are very confident!


Featured suppliers on this project: