Stafford North
It was back in 2003 when the renewal of four sets of points at Stafford North was originally planned as part of the Norton Bridge Resignalling scheme. The work was cancelled just before the Christmas of that year.
S&C with parts missing
Eventually during March 2005, Carillion's West Coast renewals team were instructed to plan and implement the job with a first possession just twelve short weeks away. There was limited survey information available, and no approved permanent way design. Signalling scheme plans had not been approved and only some of the signalling design was ready. No overhead line details were available and the switch and crossing work that had been built up in Stafford South sidings, at the south end of the station, had many parts missing. Not quite a standing start, but not far off!
Just one 54-hour possession
Scott Wilson got into the permanent way design whilst Atkins Global took on the signalling. Carillion did the overhead line alterations. RES undertook the improvement of point heating, by the installation of electric strip heaters. 300 mm of new ballast was laid in two compacted layers on top of a Terrotex geotextile layer. For the re-ballasting a combination of tracked excavators and a laser controlled D4 dozer were used.
Just one long fifty-four hour possession was available to the planners, since the only other all line long length possession at Stafford was needed for other work which would be completed the previous week-end. Consequently it was agreed that the renewal of 48 points would be done at a later date, when a longer possession was available.
The first weekend's plan
The first weekend's plan for 21st/22nd May, included the re-ballasting and relaying of 80 A & B points with new RT60, HW2121 electrically driven D and E switches and 13.5 angle crossings. Signalling work included supplementary point detection, a new lineside equipment case and a new ground signal.
Only realised a week before
The switch and crossing units, having stood so long, needed significant work, which was done during the three weeks prior to the first possession weekend. Unfortunately, the positioning of the longer leads for 80 A & B would foul the existing adjacent point machine for 66A points. This was only realised a week before the first possession.
It was decided that a point machine would be changed over from the six foot side to the ten foot side, and that two separate back-drive mechanisms would go into the four foot, whilst 80B points would be part stripped down so that they could be laid in place, but be out of use for two weeks. During the twenty-nine hour possession two weeks later, three sets of point ends would have to be retrofitted, welded, tamped and stressed.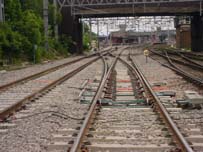 Second weekend and a Temporary Non Compliance
During the second possession weekend of twenty-eight and a half hours, 76 points were reballasted and relayed. The latest version of switch handling units were not available, but an old set of units, which did not meet the current braking standards, was discovered. A risk assessment and method statement for their use was developed. Then the risk assessment was submitted to the Network Rail Plant Subject Committee, with a request for the issue of a Temporary Non Compliance Certificate. Their next meeting was scheduled for just two days before the planned use of the units, but fortunately they granted the non-compliance.
The overhead line had to be moved to accommodate the sluing of the Up Passenger Loop onto its new alignment. Indeed slues of up to 600 mm were needed between the end of the turnout and platform one.
The weather was good
Although not the longest possession, week two was complicated by the number of interdependent tasks, which needed to be completed in specific time slots. Reballasting and relaying the turnout and associated plain line with all the smaller additional works was never going to be an easy task. Usually there is some margin of float in a critical path, but not in this case.
There was 29 hours of work to be fitted into a 29-hour possession! But a number of things worked in Carillion's favour. The site access and compound were very close to the work site. The possession was granted on time and isolations quickly followed. A number of separate plant accesses were available, so there were no conflicts between people and tools being taken onto site and plant movements. The weather was good and the scrap materials were removed via an access point at the south end of the works. If a scrap train had been necessary, a delay of two if not three hours would have resulted.
A Superior Site team - Dave, Tommy and Pete
Carillion believe that the success they achieved that weekend was due to their superior site team of supervisors, and management people, supported by Network Rail's Construction Managers, of course.
The following weekend was no picnic either; stressing welding up tamping and overhead line works using two road-railers needed more careful planning. The signalling people not only had to complete their retrofit work but also signalling testing for which they needed four hours wheel free, and the total possession was only 29 hours.
In total about 80 people were involved in working on the site, led by Engineering Delivery Manager Jim Rutter, with technical support from Pete Brownswood and Rob Holmes. But, as always the real heroes were the principle supervisors, Dave Peddie, Tommy Stevenson and Pete Phillips.
Success in a rush
Success in a rush perhaps sums it up. Rushing things can lead to mistakes being made and additional risk. The success of this work was a result of the commitment and flexibility of the people involved. Professionalism was all-important with careful attention being paid to potential risks and the exercising of mature engineering judgement at many levels. Its success is a compliment to all who were involved.

Featured suppliers on this project: